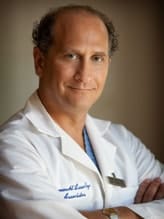 Ernest W. Kornmehl, M.D., F.A.C.S., is an internationally renowned ophthalmologist and laser eye surgeon who serves Boston and the surrounding areas. Patients travel from throughout the United States and from around the world to receive their care from Dr. Kornmehl. Dr. Kornmehl is respected nationwide for his expertise in refractive surgery procedures like Custom LASIK, PRK and the management of dry eye and corneal disease, He has consistently been recognized as a leader in his field and named among the top 1 percent of ophthalmologists in the country by U.S. News and World Report, voted by his peers to Castle Connolly's "America's Top Doctors" list for 21 years in a row and listed as one of the Best Doctors in America. Locally, Dr. Kornmehl has been named Boston Magazine's Top Ophthalmologist/LASIK surgeon for 18 years running.
Education and Training
Dr. Kornmehl completed his ophthalmology residency at the Yale Eye Center, Yale School of Medicine, and was selected as the Chief Resident. He went on to complete a Heed Fellowship in Corneal Surgery at the Massachusetts Eye and Ear Infirmary/ Harvard Medical School.
Currently, Dr. Kornmehl is a Clinical Instructor at Harvard Medical School and served as the Director of the Novatec  Laser Surgery Program for Nearsightedness at the Massachusetts Eye and Ear Infirmary/Harvard Medical School. Dr. Kornmehl serves as an Associate Clinical Professor in Ophthalmology at the Tufts School of Medicine and served as a Research Associate at the Massachusetts Institute of Technology (MIT).
Memberships and Appointments
Dr. Kornmehl is an examiner for the American Board of Ophthalmology, the Past-President and a former board member of the Massachusetts Society of Eye Physicians and Surgeons, and Past President of Boston Aid to the Blind. Dr. Kornmehl served on the Patient Education Committee of the American Academy of Ophthalmology and has taught surgery for nearsightedness and astigmatism for the Academy since 1987. Dr. Kornmehl is a recipient of the American Academy of Ophthalmology Honor Award and Senior Achievement Award for his numerous scientific presentations, instruction courses and contributions to Ophthalmology. He was also appointed by the governor of Massachusetts to the Commission for the Blind.
Research, Publications and Speaking
An avid author and lecturer, Dr. Kornmehl has published numerous scientific publications and textbook chapters. He wrote the best-seller, LASIK: A Guide to Laser Vision Correction.
Dr. Kornmehl serves on the Editorial Board and is an Associate Editor of Ophthalmology Times. He previously served on the Editorial Board of Eyenet, an official publication of the American Academy of Ophthalmology. He has received several research grants from the National Institutes of Health and developed a method of transforming skin into corneal tissue. Dr. Kornmehl is the co-developer of S-K (Swinger- Kornmehl) Solution, used to reduce corneal swelling.
Dr. Kornmehl lectures nationally and internationally. He has appeared on the front page of USA Today and has been quoted and interviewed by multiple publications including the Journal of the American Medical Association, Healthnews/The New England Journal of Medicine, The New York Times, The Boston Globe, The Los Angeles Times, The Washington Post, The Wall Street Journal, Business Week, Vogue Magazine, Family Circle, Good Housekeeping, Mademoiselle, People Magazine, Shape Magazine, Health and Wellness Magazine, Prevention Magazine, Men's Health Magazine, Men's Fitness Magazine, Reader's Digest, Men's Health and Parenting Magazine. He has been interviewed on numerous television programs, including CBS Evening News/Healthwatch, CNN, WBTV56, WCVBTV, WBZTV, World News Tonight and the Today Show.
The Kornmehl LASIK System
Dr. Kornmehl developed the Kornmehl LASIK System based on many years of experience performing LASIK eye surgery. This line of special surgical instruments helps create more consistent and predictable LASIK results, and is used by refractive surgeons around the world.
Contact Dr. Ernest Kornmehl
To schedule a consultation with Dr. Kornmehl to talk about your specific laser eye surgery goals, please call or email our office today.