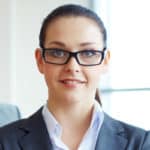 Are you tired of needing glasses or contact lenses to see clearly? LASIK laser vision correction with Dr. Ernest Kornmehl can correct nearsightedness, farsightedness or astigmatism and give you clear, crisp vision. Dr. Kornmehl is an accomplished laser eye surgeon in Boston, and he's provided this information to educate readers about their LASIK candidacy.
To be eligible for the life-changing surgery, you must meet the following criteria:
You are at least 18 years old.
You must be at least 18 years old to qualify for LASIK surgery. Individuals under the age of 18 may have changing vision prescriptions and eyes. Around the age of 18, vision tends to stabilize. Although 18 is the approved age required for refractive surgery, most of Dr. Kornmehl's surgical patients are 21 years of age or older.
You are in good general health.
You should be in good health and free of certain health problems that could compromise healing, including diabetes or autoimmune disease (e.g., lupus, rheumatoid arthritis, multiple sclerosis). You should not currently take steroid medication or immunosuppressants that could slow or prevent healing from LASIK surgery.
You have nearsightedness, farsightedness or astigmatism.
LASIK treats refractive errors that cause nearsightedness, farsightedness or astigmatism. If you have one of these conditions and need glasses or contacts to see clearly, you might be a good candidate for LASIK surgery. Your visual prescription should be stable for at least one year prior to surgery.
Your eyes are healthy.
In spite of your visual error, your eyes should be generally healthy. You should be free of any eye diseases, including cataracts, glaucoma, ocular herpes, keratoconus, uncontrolled chronic dry eye, retinal or optic nerve disease. You should not have any active eye infections or injuries.
You are not pregnant or nursing.
LASIK is not suitable for women that are pregnant or nursing. Pregnancy hormones could affect your vision prescription and render the laser correction ineffective. Women are advised to wait at least three menstrual cycles after weaning their babies to pursue LASIK.
You have a certain corneal thickness.
Because LASIK involves creating a flap in the corneal tissue, your corneas need to be at least .5 mm thick. If not, an alternative to LASIK, such as photorefractive keratectomy (PRK) may be more appropriate.
Contact Kornmehl Laser Eye Associates Today
The best way to determine whether you are a suitable candidate for LASIK is to meet with Dr. Kornmehl and our Boston LASIK team at Kornmehl Laser Eye Associates. Please call  (781) 237-3366 or email us today to schedule a consultation to discuss your vision correction options.