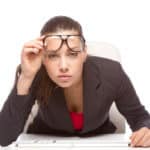 If you have been wearing glasses since a young age, you are intimately familiar with all of the ways they can affect your life. You know how frustrating it can be when glasses hold you back from an activity that you want to participate in, or when they take away from your daily routine.
Consider the following annoyances of wearing glasses:
Spending so much time wiping off small smudges.
Searching for a safe spot to store them before you jump into a pool.
Headaches when watching 3D movies (if you can even tolerate wearing two pairs of glasses).
Inability to apply eye makeup evenly.
Having to pack a spare pair of glasses for travel.
Boarding a plane only to realize you left your back-up eyeglasses at home.
Transitioning from a hot place to a cold place — or vice versa — and fogging up the lenses.
Regular trips to the drugstore to pick up color-coded prescription reading glasses.
Consistently getting a small section of hair caught in the frames.
Panic when you misplace your glasses, especially in a poorly lit room.
Irritation when eyelashes touch the lenses.
Developing an odd-looking tan when spending a lot of time in the sun.
Not feeling confident in your appearance.
Glare from the lenses in photographs.
Feeling your glasses dig into your face if you try to lay on your side.
Pain from glasses that are too small and dig into your ears.
Great News for Those that Wear Glasses
As you start to add up each one of these annoying occurrences, it may become abundantly clear that you don't want to spend the rest of your life dealing with glasses.
Dr. Ernest Kornmehl, an internationally respected laser eye surgeon in Boston, has some great news for those that rely on glasses or contacts to see clearly. Laser vision correction with LASIK or PRK is designed to reduce or eliminate your dependence on visual aids. Thanks to LASIK, you can achieve 20/20 vision without glasses!
To learn more about LASIK and determine whether you qualify for surgery, please contact Kornmehl Laser Eye Associates. Call (781) 237-3366 or send us an email today.